(Re) Defining the Goal
November 13th 5:30pm
McLaughlin Auditorium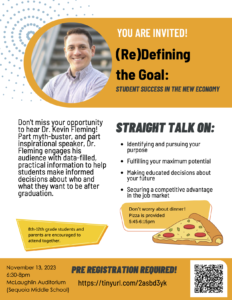 The good news about being a student in Shasta County
First, the good news. If you're a student or someone who cares about one, you should know that attending a Shasta County school gives you something special: A promise that you can go to college, and you can afford it.
The Shasta Promise, in partnership with the North State Promise, takes the guesswork out of attending any of the six universities and colleges that have signed on.
They are:
CSU Chico
Southern Oregon University
Simpson University
Shasta College
College of the Siskiyous
National University
Preparing yourself/your student for success
Here's what you need to know at every step on the path through school to college and career readiness.
Enroll your child in preschool
Teach your child to read early on
Watch educational programming with your child (after age 2)
Begin healthy routines (eating habits, exercise) with your young child
Encourage interpersonal relationships with other children of the same age
Determine strengths and areas of interests through children's imaginations an
3rd grade literacy is a strong indicator of future academic performance
Encourage children to explore interests
Help children to commit to a desired career by 8th grade. Even if the child switches interests in high school, those who choose one emphasis by 8th grade routinely perform better in academic settings.
Prepare for algebra by 8th grade for success in high school coursework
9TH – 12TH GRADE (HIGH SCHOOL)
3rd grade literacy is a strong indicator of future academic performance
Encourage children to explore interests
Help children to commit to a desired career by 8th grade.
Even if the child switches interests in high school, those who choose one emphasis by 8th grade routinely perform better in academic settings.
Prepare for algebra by 8th grade for success in high school coursework
3rd grade literacy is a strong indicator of future academic performance
Encourage children to explore interests
Help children to commit to a desired career by 8th grade. Even if the child switches interests in high school, those who choose one emphasis by 8th grade routinely perform better in academic settings.
Prepare for algebra by 8th grade for success in high school coursework
The big deal about "A to G"
3rd grade literacy is a strong indicator of future academic performance
Encourage children to explore interests
Help children to commit to a desired career by 8th grade. Even if the child switches interests in high school, those who choose one emphasis by 8th grade routinely perform better in academic settings.
Prepare for algebra by 8th grade for success in high school coursework
College Exploration:
Applying to College:
Transferring to Four Year Institutions:
Understanding Careers: